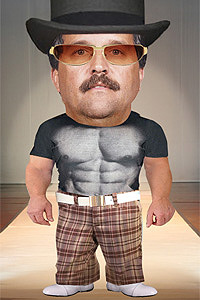 Orlando SentinelWe're pretty sure our SVG makeover wouldn't win.
The Orlando Sentinel, which already let fans give Magic coach Stan Van Gundy a mustache makeover, is taking things a bit further, going the full-body approach this time.
When Van Gundy wore a suit at a preseason game, instead of his standard mock turtleneck, the Sentinel wondered if it was time for a makeover for Van Gundy. The Sentinel's interactive feature lets you work up a little somethin' somethin'.
Fans can pick from attire, then enter their makeover in a contest on the site. The Sentinel says the selections will be judged on "creativity, originality and being NBA-ready."
There's no word on if Van Gundy will consult the Internet before Thursday night's Magic home opener against the Wizards.
Work up some magic for the coach at the Sentinel's site here.