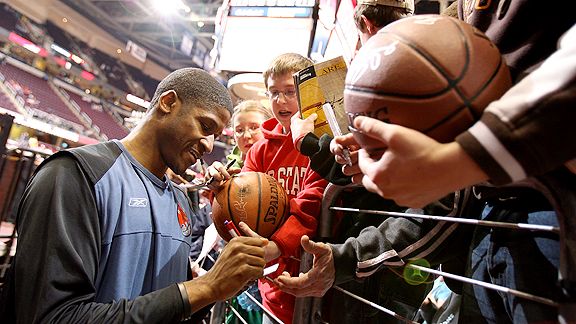 David Sherman/NBAE/Getty ImagesKevin Burleson signs autographs for fans whose signatures may, in fact, be more valuable than his.
Here's the problem with celebrating human ineptitude: You can never rent a big enough ballroom.
Earlier this week, Page 2 offered our list of the most impressive least impressive streaks in sports history, such as the Pittsburgh Pirates' 18 consecutive losing seasons and Anna Kournikova never winning a WTA singles title.
Turns out we missed a few.
In the interest of additional snickering thorough journalism, we offer the following additions:
Takeo Spikes
Streak: In 13 NFL seasons, former Pro Bowl linebacker has never played for a winning team.
Fun fact: As Page 2 reader Jon Springer puts it, "[Philadelphia's] Andy Reid was the only coach to recognize the problem and dumped Spikes after going 8-8 one season -- surely they could have gone 9-7 without him."
Vincent Spadea
Streak: In 2000, American tennis player broke an eight-month, 21-match ATP losing streak, the longest in the Open era.
Fun fact: Claims to have later been offered a spot on "The Bachelor," which he turned down.
Kevin Burleson
Streak: Missed 35 consecutive shots from the floor during the 2005-06 NBA season.
Fun fact: Younger brother Nate plays for the Detroit Lions, which means futility-streak empathy is always a phone call away.
University of Toronto
Streak: Football team lost 49 games in a row from 2001-08, the longest streak in Canadian university history.
Fun fact: Team is nicknamed the "Varsity Blues," yet official website makes no mention of cheerleaders with whipped-cream bikinis.
Larry Hughes, Anthony Carter
Streak: NBA guards have both missed 28 3-point attempts in a row.
Fun fact: Ball did not spontaneously combust, "NBA Jam"-style, following streak-busting makes.
Chicago Cubs
Streak: The longest championship drought in North American professional sports history --102 years since the last World Series title.
Fun fact: Including the Cubs seems less obligatory than gratuitous.