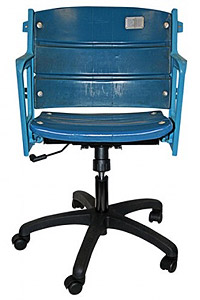 Courtesy of Steiner SportsFans of the New York Yankees can sit in a stadium chair while at home or an office.
New York Yankees fans are used to sitting in stadium seats when the World Series is going on, but a new item from Steiner Sports is about the only way they'll be able to do that this year.
These new seats probably aren't as ergonomically sound -- and it might be tough to expense -- but there's a new office chair that just might be the only place a Yankees fan feels at home with the Fall Classic under way.
What is it? Steiner has unveiled a Yankee Stadium office chair that can be found among its game-used Yankee Stadium memorabilia. And just in case a random sign from the old stadium or perhaps a piece of the foul pole just isn't enough for decorating the office there's this unique oddity.
They won't come cheap -- $799.99 plus $70 shipping -- and all sales are final. But anyone who is a collector knows how deep-pocketed Yankees fans can be. (If you're not a collector, consider that a beer at the stadium costs $9 … that should say plenty.)
Just in case you're wondering, each seat does come with a Yankees-Steiner letter of authenticity, too.