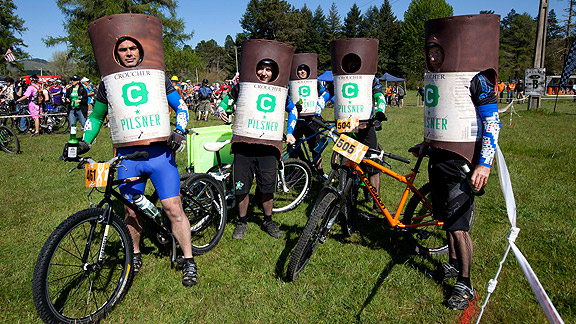 Courtesy of Graeme MurrayAbout 900 riders took part in a wacky cycling even in New Zealand.
ROTORUA, New Zealand -- If the riders didn't already know what they were getting themselves into at the 2010 Singlespeed World Championships, the pre-race briefing by race director Dean Watson -- who was dressed as Papa Smurf -- was a dead giveaway that this was no ordinary mountain bike event.
"There are some formalities to take care of because we are combining cycling and alcohol," Watson warned the approximately 900 riders from 30 countries Oct. 23. "Firstly there will be two beer shortcuts on the 40km course, but remember we do want you to drink responsibly or at least I need to tell you to drink responsibly. What you do after that …
"Secondly, if you are riding really, really fast but don't want a tattoo, then don't win the race. The winner will be tattooed at the finish line so decide before you start if you want a tattoo or not."
If "The Dude" from "The Big Lebowski" was into mountain biking instead of bowling he would have been a singlespeeder.
The SSWC is more a celebration than a competition and both the pros and weekend warriors were out to have as much fun as possible on two wheels and with one gear. The race is just an excuse for a bunch of like-minded people to meet up once a year to drink beer, tell tall tales and play dress up.