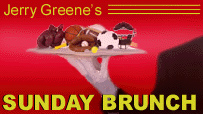 Doesn't LeBron James seem a little, you know, desperate?
No, no, we're not talking about his basketball skills as they certainly have not diminished. But doesn't he seem a little desperate about trying to win us over?
Isn't LeBron James trying awfully hard to be liked?
Admit it, you might have expected to see a lot of things Friday night when the Miami Heat played rude hosts to the Orlando (Where Was The) Magic, but you never expected to see James wearing a mouthguard that included fangs. Even with Halloween approaching, that was just weird.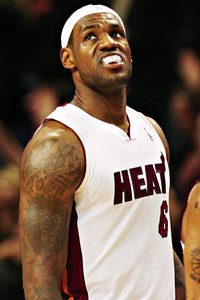 AP Photo/Jeffrey M. BoanLeBron James shows off his Halloween fangs in Friday's game against Orlando.
And then there is his "What Should I Do?" commercial for Nike. Granted, he might have asked that question before "The Decision," but that's spilt milk now. It seems as if most people like the commercial, which must be what James was after. If that's true, we have three more ideas for him to help create a positive image:
• Buy full-page adds in America's leading newspapers (all three of them) that let us know who else is on the Heat team: "Meet Udonis Haslem!"
• Embrace the hate and make fun of it:: Enter opposing arenas wearing a Darth Vader mask. "Dwight, I am your fah-thaw."
• Go back to Cleveland and buy everybody a cheeseburger and fries. All would be forgiven.
Or not.
Meanwhile, we have a few more notes before turning to some of America's best writers for the links to the main courses in this Sunday Brunch: