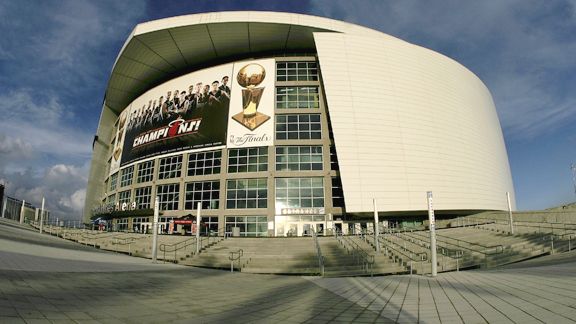 Doug Benc/Getty ImagesAmerican Airlines Arena in Miami should be the site of many W's when the new-look Heat hit the floor.
•
Click here for complete NBA arena guides.
From a dizzying, seven-game NBA Finals to some of the biggest offseason changes in NBA history (read: "The Decision" by LeBron James), the 2010-11 season is one of the most anticipated in recent memory.
In the blink of an eye, the Cleveland Cavaliers went from being close to an NBA championship-caliber team to an afterthought as King James took his immense talent and circus act to South Beach and the Miami Heat.
That move, along with Chris Bosh's arrival from Toronto and mixed with the existing superstar qualities of Dwyane Wade, gives Miami the most intriguing trifecta since Olive Oyl, Bluto and Popeye.
But Kobe Bryant is still playing in Los Angeles, and the Lakers don't figure to release their grip on the championship trophy too easily. Those teams highlight a feast of 10 must-see NBA games for the sports tourist this season.
It starts in Boston, where the big leprechaun himself, Shaquille O'Neal, has joined a team many thought was too dusty to play for a title but nearly won it all last season.
Without further ado is a trek of Travel Ten games that feature the NBA's established powers and rising stars (all times ET):