The check-in has come to the NBA.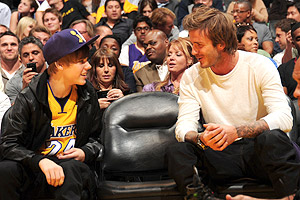 Andrew D. Bernstein/NBAE/Getty ImagesTurnstile allows NBA fans to check in whether they've got the seat between Justin Bieber and David Beckham or they're watching the game on TV.
Just like MLB -- which added check-in functionality to its At Bat application earlier this season -- and the NHL -- which increased emphasis for stadium check-ins via Foursquare at the onset of its season earlier this month -- the NBA has gotten into the game this season with NBA Turnstile. And there's also ESPN's Passport app, which also has the check-in feature.
Turnstile is accessible first and foremost through the league's official NBA Game Time mobile application but also can be used via the web and "select connected devices," according to a news release.
And it allows for fans to check in to a game pretty much anywhere they may be taking it in.
Physical-location check-ins such as the stadium or sports bar that we're used to seeing through services such as Foursquare and Gowalla -- which also are integrated into the app, allowing users to check in via one or both of them as well -- are available through Turnstile, which was developed in conjunction with Fanvibe.
But fans also are able to digitally/virtually check in to nationally televised games on ESPN, TNT, NBA TV and ABC -- meaning those sitting on the couch can get into the game as well.
Similar to most check-in services, fans are rewarded with points and badges depending on how often they are checking in, and special discounts, ticket offers and NBA prizes are available.