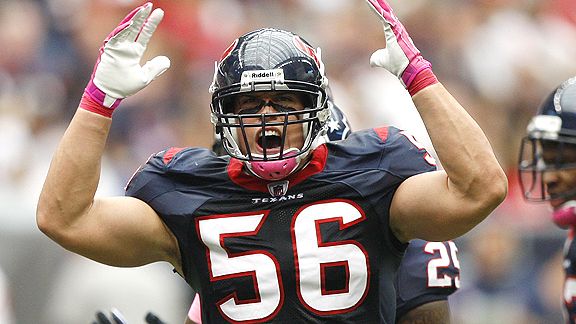 Bob Levey/Getty ImagesAccording to Brian Cushing, giving 110% might just cost you four games.
Brian Cushing on Fox Sports Radio to talk about his four-game suspension and how he's working to educate people on over-training athlete syndrome.
What he did while serving his four-game suspension:
"I went back home and you obviously know that this is a tough time. I thought that the best time would be with family back home so I just worked out, trained there and lived with the family."
Whether he knows why he tested positive for PED's last season:
"We have got a good grasp on it. There has been a lot of medical research that has gone into it. We have got a pretty good handle on why the situation happened. Now the biggest thing is to prevent it from ever happening again and hopefully educating others on it."
What "over-training athlete syndrome" means:
"Well the thing that most people make a mistake about is thinking that it is over-training that is the part but it is actually the time you take the break from training and certain hormones can get suppressed. During my first camp following my first rookie NFL season I was virtually not unable to do anything when I tore my MCL and LCL in camp. It was a complete shutdown for a guy that has been training since January. The Senior Bowl, Combine, all the stuff you can do, Pro Days and everything. I got shutdown and had a slightly elevated hormone in one of my drug tests unfortunately."
How close he pays attention to everything that goes into his training regimen:
"You have to, if you are serious in this sport and you want to be pretty good and you want to be as best as possible and you have to. You live the sport, you really do and now I am a pro and all things go towards being the best football player that I can be."
Whether he trusts any of the labels on the supplements he takes:
"Yeah you really can't, you know. For the most part you just have to rather go with a label that you trust or get everything approved by the NFLPA, which is a long process but you have to do these certain things."
• Click here for a transcript of highlights from the interview