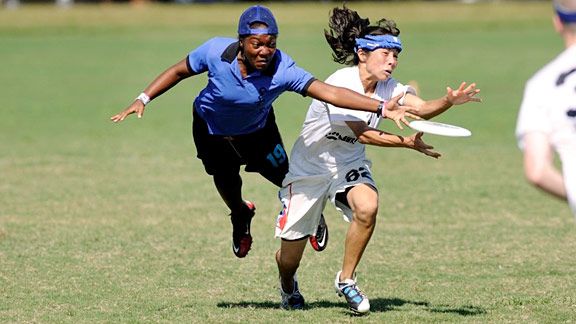 Matt LaneJasmine Draper of Ames, Iowa, looks to block the catch by An-Chi Tsou of Castro Valley, Calif.
SARASOTA, Fla. -- You probably have your own impressions of the Ultimate Frisbee Championships, and you wouldn't be completely wrong.
Yes, there are many well-tanned bodies roaming about, with a wide array of eclectic personalities drenched in suntan oil lending to the diverse crowd.
But before you think of Ultimate Frisbee as a puffy foo-foo sport played by non-athletes, consider the constant diving, sliding and highlight-reel catches, from men and women that would do any NFL wide receiver proud.
The USA Ultimate National Championships at the Sarasota Polo Club Oct. 28-31 drew 1,500 competitors on 60 teams from around the country that competed in four categories -- open, women, masters and mixed.
Ultimate Frisbee is fast, furious 7-on-7 fun played on a field 75 yards long and 40 yards wide. A 20-yard end zone allows for those perfectly high-arching Frisbee tosses that seem to hang in the air forever until someone comes down from the midair scrum with the disc.
It's football without the concussions.