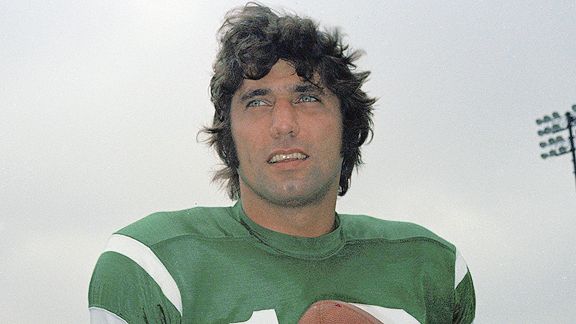 AP PhotoJoe Namath was voted by Page 2 readers as the most overrated NFL player of all time.
Doesn't matter where you are as you are reading this -- clap your hands and chant along with the rest of us:
"Over … rated!" Clap clap, clap clap clap!
Joe Willie Namath, we're looking at you.
But don't smile, Brett Lorenzo Favre, because Joe Willie barely beat you for the honor of being No. 1 on our list of Top 10 All-Time Most Overrated NFL Players, compiled by votes from the unforgiving readers of Page 2.
Our list is pertinent Thursday for two reasons:
• The NFL Network will announce the top 10 names at 9 p.m. ET Thursday to complete its list of "The Top 100: NFL's Greatest Players." Won't it be amusing if one or more names from our overrated list also shows up on its list? Believe me, it could happen. (See No. 10.)
• Last week, Sports Illustrated announced the results of its poll of 269 current NFL players who were asked to name the most overrated players in the game now. Their top five in order were Terrell Owens, Tony Romo, Mark Sanchez, Albert Haynesworth and Eli Manning. Even though three active players made our list, only one is also on the SI list -- and T.O. received only three votes from you, so he was not close to our making our Tarnished 10.
Please remember that calling a player "overrated" does not mean he had (or is having) a lousy career. It simply means he's not as good as his reputation. When you see who made our list, you'll need to remember that (especially thinking about No. 10 again).
More than 40 percent of our voters mentioned Mr. Namath. Josh S. of North Providence, R.I., even provided statistics he pulled from Pro-Football-Reference.com:
• Career Record: 62-63-4.
• Completion Percentage: 50.1 (1,886 of 3,762).
• Touchdowns: 173.
• Interceptions: 220.
Ouch.
Let's get to the list, including a comment for each player from one of you: