Professional surfing memorabilia isn't exactly plentiful when compared to that of Major League Baseball or the National Football League but that doesn't mean that there isn't an immense amount of interest.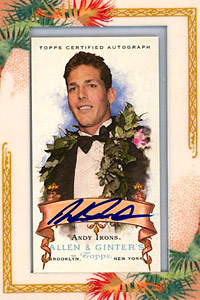 ToppsWith the death of surfing legend Andy Irons this week, his trading card is drawing interest.
In fact, sometimes unfortunate news proves that.
Three-time Association of Surfing Professionals world champ Andy Irons died Tuesday in Dallas at age 32 while on a layover for a flight to Hawaii. The news has sparked a frenzy on one of his few trading card appearances.
Irons appeared in the inaugural set of Allen & Ginter baseball cards made by Topps in 2006. The landmark set includes "world's champions" from several sports -- everyone from John Wooden to Mike Tyson, Danica Patrick, Randy Couture and even competitive eater Takeru Kobayashi alongside the likes of Nolan Ryan, Cal Ripken Jr., Barry Bonds, Ryan Howard and many others.
The set, which is modeled after 1880s tobacco cards, remains one of the most-popular releases of the decade with many of the cards in the set in high demand. There are 51 different autographed cards of champions that were found in packs, and those cards are among the most popular to be found bearing the Ginter name.
Irons appeared on 11 different cards in the 2006 set, and he personally signed 200 copies of one card or inclusion in packs. That certified autograph card -- his only autograph signed on a card specifically for a company -- typically sold for $25 or less before his death. However, one sold on Wednesday evening went for $165.50 on eBay after collecting 27 bids. Earlier in the day, another copy sold for $350 and a third card was on the auction site with a $350 or best offer price.
There aren't many surfing or extreme sports trading card sets, but Irons does appear on a few other cards. His earliest card appearance in the Beckett.com database is a 2004 Sports Illustrated for Kids card, which was found as part of a sheet bound inside the children's magazine.