What's the best way to toast the Miami Heat trifecta of LeBron James, Dwyane Wade, Chris Bosh?
Obviously, with a signature cocktail.
Delight your taste buds with the "LeBlon James Cocktail" at the restaurant at the Tides Hotel on trendy South Beach. The concoction was the brainchild of Steven Rauscher, the hotel's Director of Food and Beverage, and Will Mendenhall, bartender and restaurant manager.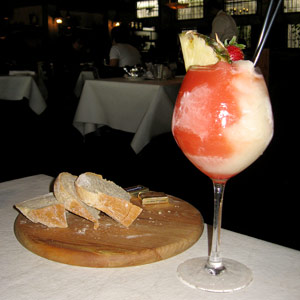 Sandra Harwitt The "Heatilicious," half strawberry daiquiri and half pina colada, is a new offering at Soyka in Miami.
Here's the recipe: two ounces of Leblon Cachaca (a favorite spirit in Brazil), one ounce of fresh watermelon juice, one ounce freshly squeezed Florida citrus juice, a dash of chipotle-infused agave nectar.
An ingredient was needed to make the drink red to match the Heat jerseys and Mendenhall picked watermelon because his uncle owned a watermelon farm in Ohio. You know, it's the six degrees of separation game -- Heat red, uncle, watermelon farm, Ohio, home state of LeBron James, back to Heat red.
"It's one of our most popular drinks," Rauscher said. "Being in Miami everything is usually about the Mojito, but we have a number of signature cocktails and the LeBlon James is one of our best sellers. Will and I were talking about LeBron coming to Miami and I accidentally said Leblon, so it was an accidental play on words that led to the Leblon James cocktail."
A visit off South Beach to Soyka -- the restaurant where Miami's favorite LeBron lookalike works -- revealed the bartender hadn't yet thought about serving up a Heat mixed drink. Bartender Keagen Brosterhous, however, didn't waste any time setting about concocting a cocktail.
Brosterhous had reason to be inspired to the challenge, having strong basketball ties. He played on the Antibes Youth team in France; his father, B.G. Brosterhous, played for the University of Texas and for 15 years in pro leagues in France. His sister, Ericka, played for Oregon State, and his cousin, Kyle Singler, was the Most Outstanding Player at the Final Four as he led Duke to the NCAA Championship last season.
"I think I'll call it "Heatilicious," you know, delicious with the H for the Heat," said Brosterhous, of his strawberry daiquiri-pina colada mix designed to be reminiscent of the Heat colors.