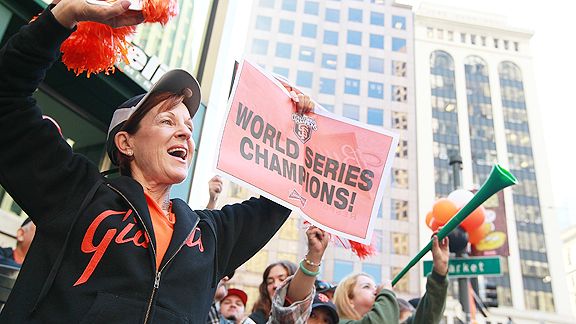 Justin Sullivan/Getty ImagesLooks good on a sign ... it would look great on the 2011 uniforms.
As you've been hearing all week, this year's World Series marked the Giants' first title since 1954, when the franchise was still based in New York.
But from a uniform standpoint, the Giants' most interesting World Series victory was way back in 1905, when they swept the Philadelphia Athletics in four games. The following season, they made sure everyone knew who'd won the Fall Classic by wearing "World's Champions" jerseys.
Arrogant, cocky, hubristic? Maybe. But seriously, how great would it be if the Giants used that uni for an occasional throwback game next season? And now some Giants fans have started a Facebook campaign to try to make that happen.
And really, how could anyone find a cast of misfits like the Giants to be arrogant? Tim Lincecum or Pablo Sandoval in a "World's Champions" jersey would be fun, not overbearing, especially if the team didn't go overboard with it. Only for Friday home games, say, or only for interleague games, or only against the Dodgers. Here's hoping they do it.