He's the NFL's version of Jerry Bruckheimer and Roger Ebert all wrapped up in a 6-5, 290 pound frame.
New York Jets defensive end Trevor Pryce, a four-time Pro Bowler, is a regular in Hollywood during the offseason where he's usually pitching studio executives his ideas. So far, he's sold a feature film idea to Sony as well as a kids' detective show about a little boy and his basset hound to Playhouse DIsney. Currently, he's in the talking stages with Comedy Central on a project and has a few other deals in the work.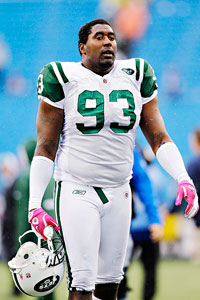 AP Photo/Paul SpinelliNew York Jets defensive end Trevor Pryce has sold a feature film idea to Sony as well as a kids' detective show to Playhouse DIsney.
Pryce's goal is to make big epics like "Iron Man" and "Avatar."
"I don't want to make independent films," Pryce said. "I get bored by period dramas."
Pryce became interested in screenwriting and producing a few years ago when his daughter gave him a movie idea by accident when she dropped a penny into a mall fountain, only to rush back and retrieve it because she made the wrong wish.
"I thought it was funny," Pryce said. "I told my football agent who knew a producer in Hollywood and it turned out the producer thought it was funny. I thought it was easy."
Pryce realized it wasn't quite that simple when he found out two other similar projects were in development.
"When I found out the idea was good, not great, I made it a personal goal to come up with a good idea and I came up with 12 good ideas."
Pryce is also picky about his cinematic viewing. He estimates he's walked out of more than 30 percent of the movies he's ever seen. "I refuse to sit through a bad one," Pryce said.
He didn't like the "The Hangover," for example. "I didn't find anything funny in it," he said. "I've seen funnier people in my locker room than those four guys."
Recently, he enjoyed "Scott Pilgrim vs. The World:" "So clever and I don't even like Mike Cera."
Pryce isn't the only Jet flying high on Hollywood's radar. Linebacker Bart Scott will be the subject of a biopic being developed about his tough upbringing in Detroit.
"I haven't filmed anything," Pryce said. "So as far as I'm concerned, I'm a struggling writer and producer like everyone else.' "
Albeit one with two Super Bowl rings.