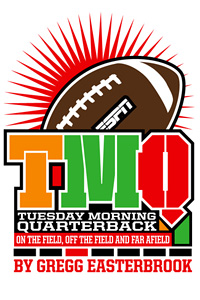 There's no Tuesday Morning Quarterback today -- TMQ is on his first-ever bye week, as explained here.
The column will return in all its ridiculous glory on Tuesday, November 16th.
To help tide you over, here's a TMQ Poll. Answer in the comments.
Within a few weeks, Randy Moss will be playing for:
1. The Saskatchewan Roughriders.
2. The Dillon Panthers.
3. The Melbourne Storm of Australia's National Rugby League.
4. The Los Angeles Rams.