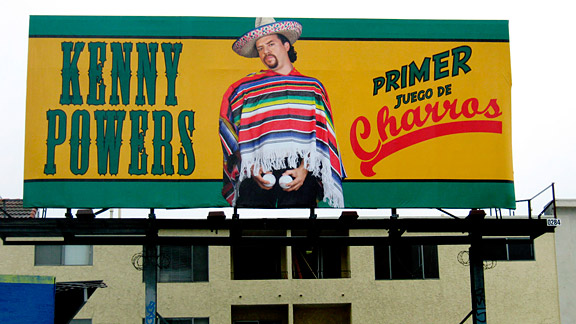 HBOThe world-famous Kenny Powers of the Charros of Copales.
Kenny Powers has returned from his Mexican adventure. And "Eastbound & Down" will return to HBO next season, the network announced recently.
But will this be the last season?
Co-creator Danny McBride, who plays the heroic protagonist, said that was always the plan.
"In our heads, we always imagined this as one really long movie and less of a sitcom," McBride said of his collaboration with longtime friend Jody Hill. "When we write each of the episodes in the season, that's why we do a short order [six episodes in the first season, seven in the second]."
"In our heads, we'd always imagined a three-act structure. We'd love to do one more season and kind of wrap up Kenny's story."
If the surge in popularity in the 18 months off between the first two seasons was any indication, the third season should be even bigger. The show's growth was powered by word of mouth between seasons, with fans quoting the character nonstop on social media or even making their own Kenny Powers jerseys.
McBride said he could feel that happening, and people started uttering his character's catchphrase to him.
"It was a pretty specific kind of humor, and as it kinda went on, I would notice it myself when I'd go out in public," he said. "More and more, I'd have people sending over a shot or coming up to me, saying 'You're [expletive] out!' then suddenly it's like, 'People are watching this show.'
"We love the fact that the show grows by word-of-mouth and it's something people share with each other. It feels like that's what always happens with great bands or something. You find that thing and it feels like it's small and you're kind of showing it to people, so we love that the show has grown that way."
And it has grown from a cult hit into a pop-culture phenomenon, with bizarre results. Marilyn Manson, for instance, has professed his obsession with the show, with friends saying Manson dresses like Kenny Powers and walks around on the street talking like him ("That's spooky," McBride said). Jose Canseco took to Twitter to claim the show is based on his life.