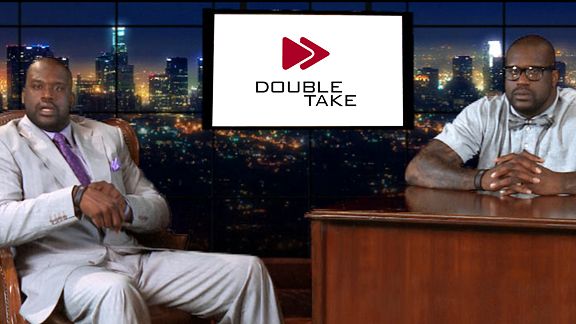 Power BalanceShaquille O'Neal interviews himself in the new web series "Double Take."
Shaquille O'Neal is upset at his interviewer. The talk-show host has just taken another cheap shot at the Big Cactus, this time about the frustration of falling one ring short of Kobe. One more insult, Shaq promises, and he'll punch the grinning questioner right in the face.
The smug host will eventually gets his comeuppance. True to his word, as the segment concludes with another zinger about "Kazaam," Shaq leaps across the table to tackle himself.
Wait . . . what?
Your eyes do not deceive you. There's Shaq, decked out in a smooth suit and a purple tie, being interviewed by Shaq, sporting wide-rimmed glasses and a silver bow tie. Seeing double takes some getting used to, but suddenly it all makes sense. This is "Double Take," a new original web series in which celebrities candidly interview themselves in a talk show-style format. The show, produced by Converge, debuted today at the website of its sponsor, Power Balance, with the inaugural episode showcasing the all-too-familiar humorous side of one of basketball's biggest clowns as he pokes fun at himself about nicknames, movies and NBA titles.
"Everybody seems to know I'm a joking guy, so I just love to make people laugh," O'Neal said. "It's not that I get anything out of it, but it's just that I laugh at myself so I hope you can laugh at me too."
It's difficult to not crack up as Shaq the interviewer launches into one of his creations, a "charismatic and intelligent idiot" inspired by Sacha Baron Cohen's Ali G and the Will Ferrell flick "Step Brothers." On the other side of the table sits Shaq the guest, stone-faced and annoyed at the constant rim shots accompanying each joke.
It's the latest foray into comedy for one of the Boston Celtics' newest additions, a career the Big Agave -- one of his 20-plus nicknames -- says has been brewing for some time.
"I don't really think being funny is something you can pick up one day," he said. "I was a class clown, I was a juvenile delinquent. Being funny was my whole business. I used to pull pranks, put pens in the teacher's seat, shoot spit wads and put super glue on the teacher's stapler so she can't pick it up." O'Neal claims he got expelled for tampering with the teacher's food, but said that at least everyone laughed.