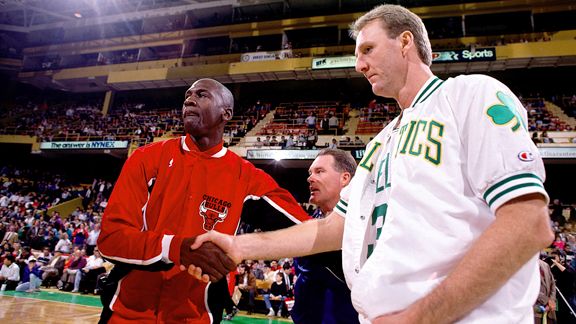 Nathaniel S. Butler/Getty ImagesLarry Bird and Michael Jordan are in the top 5 trash talkers of all time, according to Page 2 readers.
If there was ever a "golden age" of sports' trash talking, it has passed us by.
That seems to be the obvious conclusion based on your voting for our "top 10 all-time trash talkers in sports" list that you will see below. Four athletes dominated the list, and none of them are active. Three of the four played the same sport -- basketball.
The violence may be found on the football field but the nasty verbal zingers clearly are on the court.
And all hail the king of trash talking -- Larry Bird.
Running second is the man that many of you said "invented" trash talking and often made it poetic -- Muhammad Ali.
Back to basketball, Michael Jordan is in third and his sparring partner, Gary Payton, in fourth. Sir Charles Barkley probably will be disappointed to know he was a distant fifth, while Mike Tyson may hurt us if anyone tells him that he was only sixth.
What made this a topical top 10 list was the recent he-said/h-tweeted flap involving Boston Celtic Kevin Garnett and Detroit Piston Charlie Villanueva, who tweeted that Garnett had said he looked like a "cancer patient" on the court. Garnett countered that he had merely said Charlie was "cancerous" to his team. Whatever.
Garnett finished seventh in our list but can be cheered to know he is the only active athlete on it. Is this what being "politically correct" is doing to us?
In any case, here is your top 10 with a comment from one of you for each player "honored" by being named: