Welcome back to the Pregame Flyover, your eye in the rafters for Thursday night's Ravens-Falcons game in Atlanta. Baseball season has ended, and that means Thursday can finally be put to its proper use as the starting point of every NFL week. Of course, we'd all like to see the NFL play games every day of the week, since that would allow us to ignore our families and responsibilities in full. Alas, we're not there yet. But in time, in time.
What to expect while tailgating at the Georgia Dome: According to weather forecasts, there's a 10 percent chance of precipitation. This number could rise substantially if alleged spitter Le'Ron McClain visits the parking lot.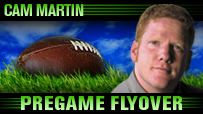 This is a matchup of: Two first-place teams with quarterbacks selected in the 2008 draft.
Matt Ryan is also known as: The quarterback with a symmetrically perfect face.
Joe Flacco is also known as: The guy who barely had to dress up to be The Situation for Halloween.
If you're on Facebook, you may have been invited to join the group called: "I bet I can find 1,000,000 people who hate the Ravens."
I'm on Facebook and I was surprised to learn there's no group called: "I bet I can find 1,000,000 people who are indifferent to the Falcons."
The Falcons' offense has the: Second-fewest penalties in the NFL.
The Ravens' defense has the: Second-most penalties in the NFL.
When in doubt, the refs should obviously: Throw a flag on the Ravens' defense.
What to expect when Ray Lewis runs into Tony Gonzalez: Hopefully the stylish Lewis (seen here) will remind Gonzalez (seen here) that it's illegal to be nude in public.
The Falcons lead the NFC in: First downs per game.
The Ravens lead the AFC in: Autographs given to police officers following traffic stops.
Who are the 1 percent? Lewis says 99 percent of players would prefer not to play Thursday night games, because of the quick turnaround between the physically demanding games. So, who are the 1 percent? Who constitutes the cadre of players willing to play ball with the NFL brass? If I had to guess, I'd say it's guys like this and this. Even when Lewis is citing percentages off the top of his head, he doesn't forget for a second that there are enemies inside the perimeter.