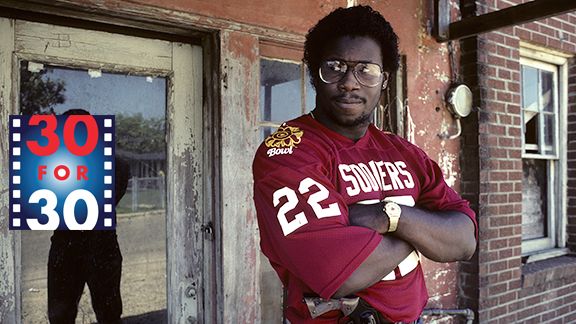 Ronald C. Modra/Sports Imagery/Getty ImagesMarcus Dupree is at peace with his life and his decisions.
Marcus Dupree joined 790 the Zone in Atlanta with Mayhem in the AM to discuss the 30 for 30 film based on his life, "The Best That Never Was", and what he would say to athletes.
On whether he was was ever paid by recruiters:
"First of all, Oklahoma didn't give my mom the double-wide trailer. That was the first thing that Ken ... lied about. He lied a couple times in that film, which I told John. He lied about [when he said] I called him three days after I signed and said I regretted signing with Oklahoma. How could I regret it? I just signed it. A lot of the stuff he said in that film wasn't true. I think kids should get paid to a certain degree, but I didn't. I got offered a lot of money and I turned a lot of money down. One school offered me $250,000 a year ... I didn't take it."
On why he didn't take it:
"My mom's a schoolteacher, my grandfather was a minister, my uncle was a deacon of a church. Growing up in Philadelphia [Mississippi], it doesn't take much to live. We all agreed, you didn't want anybody with their thumb on you, saying, 'You've got to do this, you've got to do that.' My mom was like, 'If it's for you, it's going to come to you. God's going to make a way where it's going to come to you. So just keep doing what you're doing and do the right thing and it will come to you.' That's why I didn't [take money]."
On what advice he'd give to high school athletes now:
"Just sit down with your parents, pray about it, make sure that the school is the right fit for you and your talent. And make sure you're going to be happy with it."
• Click here for a transcript of highlights from the interview