As the lopsided Kansas-Nebraska series trudges to an end this Saturday, most fans expect the Cornhuskers (90-20-3) to add one more win. Oddsmakers agree, making the home team a five-touchdown favorite.
They're ignoring some big numbers. First-year Jayhawks coach Turner Gill returns to Lincoln with a personal, red-letter undefeated streak (3-0 as a starting quarterback, 14-0 as an assistant coach) in games between the two teams.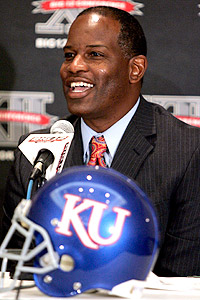 AP Photo/Mike FuentesTurner Gill knows the Huskers better than he knows himself. And he won't be denied.
Never mind recent multimillion-dollar renovations and additions, few know the ins and outs of Nebraska's Memorial Stadium or are less likely to get lost going from the locker room to the field, than Gill. His teams are a gaudy 109-9 there as a player and coach, an advantage which now transfers seamlessly to the Kansas sideline.
No one currently coaching in the Big 12 better understands the Big 8's legacy and importance to the Midwest or has more of a personal stake in the conference's fuzzy-TV era memories than Gill. He was an All-Big 8 pick at quarterback in 1981, '82 and '83, making the league's all-decade team, and was even an all-conference pick at shortstop the one season he played baseball.
Gill has no tolerance for conference home-wreckers such as Colorado, which is headed to the Pac-10, or Nebraska, which is Big Ten bound. If the traitors are still unsure what this man and his team have planned for vengeance, check Dan Hawkins' LinkedIn page after Gill's wrath last week.
Skeptics with gray hair and overalls will note that Nebraska trounced the Jayhawks by an average of 50-10 from 1981-83. Sure, but how good would Roger Craig (1,060 yards rushing in 1981), Mike Rozier (2,148 yards rushing and the Heisman in 1983) and Irving Fryar (No. 1 NFL draft pick in 1984) have been without Gill reading defenders, handing them the ball, (occasionally) passing and humbly not calling his own number?
Lest there be concern that Gill's loyalties may be conflicted, his degree is from North Texas.
In a final desperation heave, those who resort to cutting down the man's legacy will sneer that Gill's most important pass, the 2-point conversion attempt that would have beaten Miami and secured the national championship in the Orange Bowl, fell incomplete.
Perhaps he was saving just a bit of the magic in his arms and legs for a later date, Nov. 13, 2010. Not that Kansas will need it.
Nebraska does have one thing in its favor. Gill's ties to the Cornhuskers probably mean he has no desire to run up the score.