There's no East Coast bias here at Page 2, and we can prove it. Our All-Geography team is represented by every time zone in the United States. Enjoy your travels.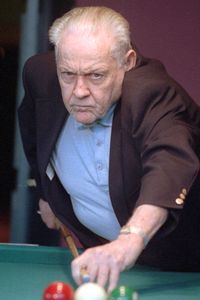 AP Photo/Charles KrupaBilliard legend Rudolf Wanderone Jr. became better known as Minnesota Fats.
Minnesota Fats: Rudolf Walter Wanderone Jr., adopted -- some would say purloined -- his nickname from the film "The Hustler," claiming the story was based on his vagabond, pool-sharking lifestyle. Fats was, if nothing else, an expert marketer, becoming a legendary cultural figure without winning a major national championship in billiards. And for the record, Minnesota was born in New York City, lived in a portion of Illinois known as "Little Egypt" and resided in Virginia and Tennessee. If Minnesota is the "Land of 10,000 Lakes," Fats was the player with 10,000 defeated opponents.
Georgia Frontiere: Born Violet Francis Irwin in St. Louis, she frequently changed names and addresses and ultimately became owner of the Los Angeles Rams when her sixth husband, Carroll Rosenbloom, died in 1979. Two months later, she married hubby No. 7, Dominic Frontiere. "Madame Ram," as she was known, kept the itinerant thing going when she moved the team to the city of her birth.
Johnny Hilo: Drafted by the Los Angeles Dodgers out of Cal State-Los Angeles in 1994, the outfielder played parts of two seasons in the minors. At 6-foot-2 and 175 pounds, Hilo just wasn't large enough to earn the moniker "The Big Island."