Baseball cards have been around since the 1800s, but one of the most recognizable names in the game -- one right up there with Mantle and Mays -- has only been around the diamond for a few decades.
It's Topps.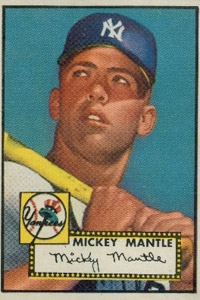 Courtesy of ToppsMy favorite baseball card of all time is the 1952 Topps Mickey Mantle.
In fact, the company is celebrating its diamond anniversary in 2011 in a few ways -- but what the New York-based memory-maker really wants is for collectors to select the 60 greatest Topps baseball cards of the last 60 years.
Why? So those cards can be placed back into packs, of course … no bubble gum included.
Topps has pre-selected 100 classic cards from as far back as 1952 -- Mickey Mantle and Willie Mays for starters -- and as new as Stephen Strasburg's 2010 card with its mission to let the people decide which cards are the best.
Beginning in mid-December, it will start unveiling the top 60 with the No. 1 card's unveiling on Feb. 15, the day that the 2011 set arrives.
All that said, it's time to get voting -- but before you do here's my personal top five:
1. 1952 Topps Mickey Mantle -- This card is so iconic that it's a lock to be No. 1. Interestingly, though, it's not The Mick's rookie card as Bowman beat Topps to the punch with a Mantle card in 1951. Today, the Topps card sells for $30,000. The Bowman? Not so much …
2. 1954 Topps Hank Aaron -- Hammerin' Hank's rookie card doesn't get the kind of love that Mantle does -- it's just $1,800. It's a shame that Hank is so heavily topped when it comes to his Topps. But then again he's been topped on the home run list, too.
3. 1958 Topps Roger Maris -- He's not in pinstripes -- my favorite Yankees card of his comes in 1961 -- but Maris has got that solemn look on his face that many fans probably remember. This is his rookie card, and it goes for $500 or less.
4. 1969 Topps Reggie Jackson -- Mr. October's rookie card also lacks pinstripes, but as a long-suffering Oakland A's fan, I'm fine with that. The lime green uni on this $300 card helps me forget how he was later The Straw That Stirs The Drink. Check that, I meant a lime and some tequila helps me forget …
5. 1980 Topps Rickey Henderson -- A card -- and set design -- that was well ahead of its time. This card is absolutely perfect from its colors, photo, facsimile autograph placement and more. A perfect card for perhaps the best all-around player in the history of the game. I'm sold on its greatness, but it's the cheapest one found here at just $80.