LEXINGTON, Ky. -- Morehead State coach Tom Hodges made a fashion statement. Kentucky opted to make one with its defense.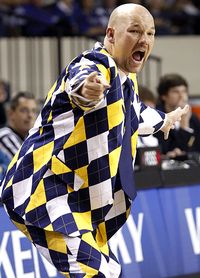 AP Photo/James CrispMorehead State head coach Tom Hodges directs his team against Kentucky.
The ninth-ranked Wildcats swarmed the Eagles in the second half, pulling away for an 82-48 victory in the season opener on Friday.
Victoria Dunlap and A'Dia Mathies scored 18 points apiece and Kentucky overwhelmed the overmatched Eagles over the final 20 minutes.
Chynna Bozeman led Morehead State with 16 points and Ashar Harris added 12 rebounds, but the Eagles withered under Kentucky's relentless pressure.
"It was not a masterpiece by any means," Kentucky coach Matthew Mitchell said.
Maybe, but Hodges' eye-popping attire might be. The 28-year-old first-year head coach turned heads with an arresting diamond-patterned suit of blue, white and gold and matching white shoes.
The wardrobe was provided by LoudMouth Golf, the company that outfits golfer John Daly. Hodges did it to bring attention to his team, a member of the Ohio Valley Conference.