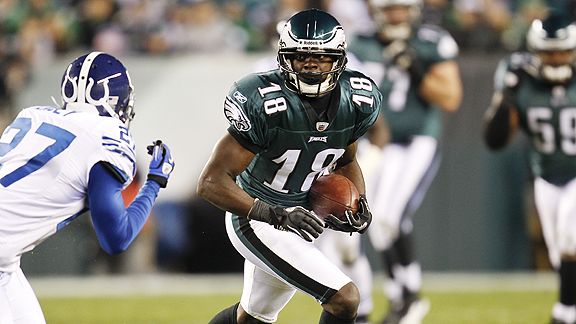 AP Photo/Brian GarfinkelJeremy Maclin is a beast in "Madden." He's also pretty good with a virtual gun in "Call of Duty."
If I had to guess the most used team in "Madden NFL 11," I'd say Eagles, no doubt.
"Just look at all our speed," boasts receiver Jeremy Maclin, who along with Michael Vick and DeSean Jackson make up one of the most lethal trios in the game.
Then again, success doesn't always equal popularity on the virtual gridiron.
According to EA Sports, the most used team in "Madden" online this year is the Dallas Cowboys. That's right, the 1-7 Cowboys, followed by the Vikings, Saints, Ravens, Jets, and then, in sixth place, the speed demons from Philly (and my favorite team to play as, obviously).
The team least used this year? The Arizona Cardinals. So much for the allure of former Madden cover star Larry Fitzgerald (although I'm sure it has to do more with the lack of options at quarterback).
"Everyone should use the Eagles," Maclin continues when I ask him who he thinks people should play as in the game. "We have a lot of speed out there, especially with Michael Vick at quarterback.
"What's crazy to me, though, is how when I first got into the league and I was in a meeting and we had Donovan McNabb, Michael Vick, and Jeff Garcia all in the same room. To be sitting in a room with those quarterbacks who I used to play as in 'Madden,' only now they were going to throw me the ball for real. I just kept looking around and shaking my head."