Take the Dallas Cowboys -- please.
With apologies to the late, great comedian Henny "Take my wife -- please" Youngman, we tamper with his most famous one-liner to talk about the Cowboys, this season's hottest comedy troupe touring the NFL.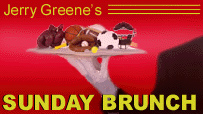 How bad are the Dallas Cowboys?
The Dallas Cowboys are soooooo bad that their Web site -- DallasCowboys.com -- was down over the weekend after their latest loss, this one at Green Bay.
The announced reason is that the Cowboys "forgot to renew" their registration for the domain although a more logical reason would be sheer shame. Anyway, for many hours the only image available on the site was of two kids playing soccer.
The kid from Dallas had more talent but still found a way to lose.
Seriously, can't we all agree that the Cowboys are the most talented one-win team in league history?
Or as Jay Leno's writers put it: "This past weekend we set our clocks back, which gave Dallas Cowboys Coach Wade Phillips an extra hour to clean out his office. They [the Cowboys] got off to a 1-7 start, to which the Buffalo Bills said, 'What's your secret?'"
Bada-bing.
And now a few more one-liner tidbits before we get to the main courses of this Sunday Brunch:
• Hey, Miami Heat -- We're waiting.