MILWAUKEE -- The legend of the Loch Ness Monster has long since been debunked.
But what about the Brockness Monster? That would be Milwaukee Bucks backup forward Jon Brockman. Page 2 caught up with him in his natural habitat, just off the shores of Lake Michigan, and we're happy to report he is alive and well.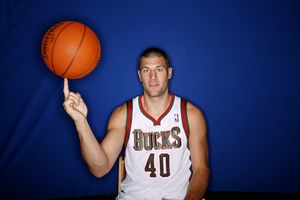 AP Photo/Morry GashJon Brockman is kind of a big deal on the internet.
"Jerry Reynolds, the TV color commentator in Sacramento came up with (the nickname) and it just kind of caught on," said Brockman, who used to play for the Kings.
But Brockman's lore is not about his nickname -- it's about his popularity on Twitter. Google "Milwaukee Bucks" and "fan favorite" and the first few pages are Brockman's domain -- his @MrJonBrockman Twitter account has more than 325,000 followers.
It seems like an anomaly for a guy who averages 10 minutes a game and posts stat lines that put him closer to the end of the bench than the All-Star team.
"I don't know what it is," Brockman shrugged. "Probably something to do with the way I play. I'm a 6'7" center so I'm not the guy you're gonna see on ESPN or anything like that. I'm just gonna go out and hustle and work hard."
The team's stars want to know Brockman's secret.
"If I knew, I'd tell you," Brockman replies with mock indignation.
His appeal may lie in the fact that his Twitter feed doesn't read like a guy who plays professional basketball for a living. If you didn't know any better you'd think he was just Jon, your college friend from Snohomish, Wash. who was real excited about the latest "Call of Duty" video game release.
In fact, his Twitter success also led Joe Sorge, owner of popular Milwaukee burger joint, AJ Bombers, to name a double peanut butter and fried egg cheeseburger after Brockman.
"With Twitter you can really show people that, yeah we play basketball in front of a bunch of people every night, but when we're at home we're watching the same thing on TV everyone else is, we eat at the same restaurants everyone else does," he said. "We're more normal than what people think."