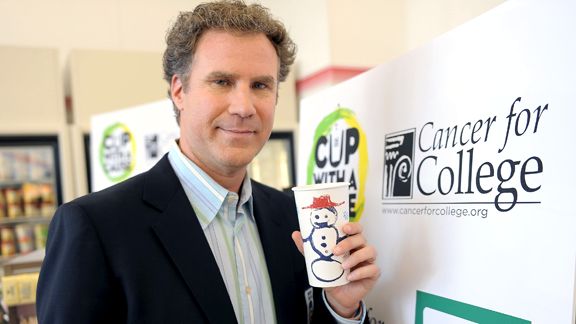 7-ElevenActor Will Ferrell shows off the cup he made for 7-Eleven for charity.
Actor Will Ferrell said he was done with playing athletes on film, but if you tug his arm hard enough -- and slide the right script in front of him -- he could be convinced otherwise.
He knows where his bread is buttered, and even though the 43-year-old comedic actor proclaimed that he was done taking on the underdog athlete -- he's been an ice skater, a NASCAR racer and a basketball player -- about two years ago, he acknowledges that stranger things have happened.
"We'll see. I don't know. Never say never. There's nothing in the works right now. Not as of yet …," he says laughing and trailing off. "My other love outside of comedy is sports. And the fact that they're running Ron Burgundy clips on 'Sportscenter' -- it really is a thrill. Whenever I hear someone on 'Sportscenter' use a quote from one of my movies in highlights, it's a huge thing. I love it."
So does that mean he wants more?
Maybe. He tried his hand at baseball early in the season, and might be a baseball character brewing somewhere in there? The story is that Ferrell is helping out his favorite charity, Cancer for College (it gives grants to young cancer survivors to help pay for college), which was started by one of his fraternity brothers, earn some more cash. He's pretty much willing to do anything to for it.
Ferrell is the latest celebrity to join this effort; others include Jennifer Hudson, Rob Dyrdek and Snoop Dogg. On Monday, 7-Eleven started selling a coffee cup he designed (a self-drawn snowman); it'll be on sale until throughout the holiday season.