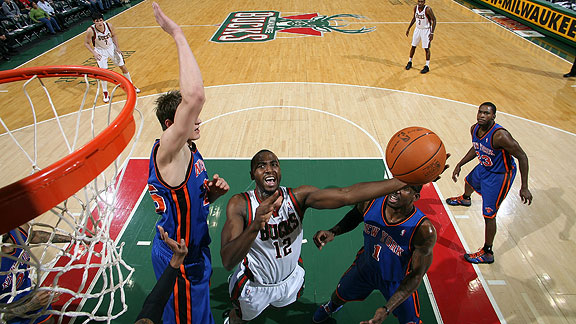 Gary Dineen/NBAE/Getty ImagesMilwaukee Bucks forward Luc Mbah a Moute is a prince in Cameroon.
MILWAUKEE -- LeBron James may call himself the King. But when it comes to NBA royalty, he's got nothing on Milwaukee Bucks forward Luc Mbah a Moute.
Er … make that Prince Luc Mbah a Moute.
"I didn't have people throwing rose petals at myself or things like that," he said, "but I definitely enjoyed being the prince of a chief."
Mbah a Moute grew up in Bia Messe, Cameroon, a small village just outside the capital of Yaounde. His father, Camille Mouté ŕ Bidias, is the elected village chief there.
While he says growing up as a prince had its perks, it wasn't quite what you might think.
"Not really, just go to different meetings and traditional events," he said. "I don't have to do anything. I don't have to make any decisions. That's all my Dad."
While he didn't have any power in Bia Messe, his hard-nosed style of play has earned him a legion of fans in Milwaukee.
So once his playing days are over with, does he have any aspirations of going back to Cameroon and taking over for his father? Well … yes and no.
"I don't think I'll take over for my Dad but I'll be doing a lot of different things [there]," he said. "I don't know what I want to do right now, but I'm definitely going back."