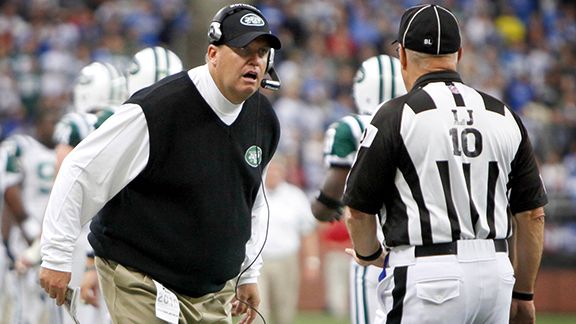 Michael Sackett/US PresswireRex Ryan's food choices wouldn't be a good match with getting your fitness on.
The Page 2 Podcast caught up with Jets QB Mark Sanchez and TE Dustin Keller while they were trying to mind their own business and get a workout in by playing some Your Shape Fitness Evolved on the Xbox 360 Kinect.
Here are a couple of the questions we asked:
• How often would you need to play this game if you were on an all Rexican food diet?
Keller: "You might not have to ever come off the game. You might just need to stay on whenever you're not eating your Rexican food."
• What are your first three picks in a Thanksgiving food draft?
Sanchez: "Rex!"
Page 2: "No, not your eaters. Your food!"
Sanchez: "Turkey definitely. I'm a leg kind of guy. Dark meat turkey, extra gravy. Other than the turkey, prime rib is always good on Thanksgiving. One of my family members, a cousin of mine Kelly makes a pineapple cheesecake from scratch with a graham cracker crust. It's unbelievable."
CLICK HERE for the full interview