Former Steelers great Jerome Bettis is a go-to source for reporters looking for Bill Cowher insight.
Bettis often weighs in on the future of his former coach. And he said that got him in a little hot water with Cowher.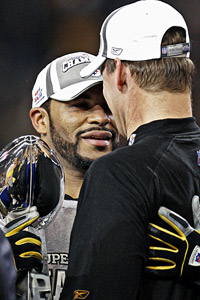 AP Photo/Jeff RobersonJerome Bettis and Bill Cowher won a Super Bowl together in 2006, in Bettis' last season.
Bettis said last year that in 2007, before the Giants rallied to win the Super Bowl, that Cowher would have definitely landed the Giants coaching job if Tom Coughlin had been fired. Obviously, in a market like New York, this got some attention.
"I said he was possibly going to New York and it created an uproar," Bettis said on a visit to ESPN this week. "I saw him at that Super Bowl in Tampa and he said, 'Man, what are you doing?' I said, 'Coach, that's just my opinion!' But he said, 'Everybody thinks that because you played for me, we talk every day,' Bettis said, laughing. "Obviously that's not the case."
"I just gave my opinion. Unfortunately because we played so long together, we're two peas in a pod. Regardless of what happens, we're going to always be connected," Bettis said. "It seemed as if I had inside information, which I didn't."
Bettis said his insight was just from knowing his old coach and how he liked to work. He said Cowher worries that other coaches think that "he was putting me out as a cannon to solicit a job for him. Obviously, he's friends with these guys.
"I know the coach. I know the former organization he fit like a glove in," Bettis said. "And I'm looking at other organizations that are like-minded in what they do and how they approach the business of football."
Which is more like the Giants, and less like the Cowboys?
"Exactly," Bettis said.
Bettis is promoting Chunky Soup's All-Pro Dad campaign in partnership with former Colts coach Tony Dungy. "The idea is for dads to commit to bringing the family back together for dinner. You start at dinner and then you make one more commitment, that you'll be active with your kids," Bettis said.