Welcome to the Pregame Flyover for the Bears-Dolphins game, a matchup featuring players still sore from Sunday's contests. If you're tailgating in Miami and see hunched men shuffling through the parking lot, please be mindful: Those are not senior citizens fresh from the early-bird special, those are the players heading to the stadium.
This is a matchup between two teams that are: Rather boring to use in "Madden NFL 11."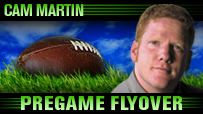 This is the Dolphins' last scheduled prime-time game of the season. So if you've been dying to see the Miami offense in action (read: you've had a hankering to watch Dan Carpenter kick field goals), this could be your last chance.
Best season of "Dexter"? The Flyover is a big fan of Miami's do-good serial killer/forensic scientist and we're continually impressed by the guest stars who've taken a turn on the program, including John Lithgow and Julia Stiles. But the show has been woefully lacking in guest appearances by that Dolphins fan who is most famous for being famous: Kim Kardashian. She's everywhere in Miami, but they can't find a role for her on "Dexter"? We'd never suggest that Kardashian appear on the show as a soulless monster who ends up on Dexter's table; not when her strengths are obviously more suited to playing a forensic scientist.
As widely advertised by Jimmy Kimmel, Wednesday was: National UnFriend Day, in which people were urged to drop Facebook friends whom they aren't really friends with. Bears quarterback Jay Cutler dropped his entire offensive line.
Brandon Marshall knows of what he speaks: The Dolphins' talented and brash wide receiver guaranteed last week that Miami would make the playoffs. And Marshall, whose Broncos teams never reached the postseason during his four years with Denver, certainly knows what a playoff team looks like: He's spent all his Januarys watching them on television.
Everyone's expecting Miami to run the Wildcat, but: The Bears occasionally used both Devin Hester and Matt Forte behind center in 2009. Hester's package in the Wildcat was called "Cane" and Forte's was called "Cajun," in reference to the colleges each player attended -- Miami and Tulane. So if Dolphins defenders hear a formation called "Cellar Dweller," it's probably the Wildcat formation for Vanderbilt alum Earl Bennett.