Holding a top NBA draft pick, the Portland Trail Blazers pass on an explosive college scorer to select an injury-prone big man. The scorer becomes a dynamic professional star; the big man is betrayed by his fragile physique. No wonder everyone wants to liken again-injured Blazers center Greg Oden to Sam Bowie. Only there's one problem with the comparison.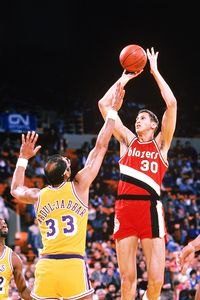 Rick Stewart/Getty ImagesSam Bowie averaged 51 games per season in 10 years in the NBA.
It's a disservice to Bowie.
Fact: Bowie wasn't Michael Jordan. Also fact: Bowie wasn't terrible, and unlike Oden, he actually played fairly regularly despite his health issues. Indeed, Bowie averaged 51 games a season over a 10-year NBA career -- far better than Oden's pace of 27.3 games per season.
As such, basketball pundits need a better reference point for Oden's unfortunate career arc. Page 2 suggests the following:
Shaun Livingston
Gifted point guard came out of high school as the No. 4 pick in the 2004 NBA draft, but injuries -- most notably tearing his left ACL, PCL and lateral meniscus while dislocating his patella and tiba-femoral joint during a single gruesome play in 2007 -- limited him to an average of 48 games played during his first three professional seasons.
Steve Stipanovich
No. 2 pick in the 1983 NBA draft -- behind another injury hardcase, Ralph Sampson -- was an All-America center at Missouri; as a pro, suffered a rare degenerative knee disorder that required multiple operations, left him "unable to cut the grass" and forced him to retire after five incomplete seasons.
Ki-Jana Carter
Named for a character in the film "Shaft in Africa" -- seriously! -- Carter was a star running back at Penn State and the No. 1 pick in the 1995 NFL draft. Yet after tearing his ACL on the third carry of his first professional preseason game, he never regained his explosiveness. Carter also suffered season-ending wrist and knee injuries in 1998 and 1999 and totaled just 1,144 rushing yards in 10 seasons.
Blair Thomas
Like Carter, Thomas starred as a Penn State running back; as a pro, the No. 2 pick in the 1990 NFL draft rushed for only 2,009 yards over four injury-riddled seasons with the New York Jets and washed out of the league in 1996.
Brien Taylor
Only the second player in MLB history to be a No. 1 overall draft pick but fail to reach the majors, Taylor had a 99 mph fastball and was a top minor league prospect until he hurt his shoulder in a fistfight; following surgery, Taylor struggled with velocity and control and never made it out of Class A.