Imagine owning Ken Griffey Jr.'s 1987 Bellingham Mariners jersey or Don Mattingly's 1979 Oneonta Yankees jersey.
While those relics of first minor-league seasons are likely long-gone -- lost to the Bermuda Triangle of equipment managers or locked away in players' or fanatics' possessions -- there's a new piece of history that can be found on the auction block that just might be like those impossible finds today.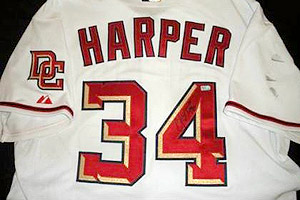 Major League Baseball Bidding on Bryce Harper's jersey from his first game in the Arizona Fall League has surpassed $6,000.
It's a gamer fully authenticated by Major League Baseball, literally taken off the back of the player once he left the field.
What is it? It's Bryce Harper's jersey worn during his first game as a pro, and it's on the auction block at MLB.com. Bidding continues through Sunday and has already topped $6,000.
The autographed jersey looks just like a Washington Nationals home gamer, but it's not. It's a jersey Harper wore during his pro debut during an Arizona Fall League game on Oct. 20, where he finished 1-for-4 with a double and two RBI for the Scottsdale Scorpions.
The AFL teams wear their organization's uniform with a custom cap for their AFL squad. Harper's debut cap is also on the block -- but for a fraction of the jersey price so far.
With just three games remaining on his team's AFL schedule, Harper is hitting .323 with a homer and six RBI in eight games. Not bad, considering he should be a senior in high school right now.
Harper, 18, has generated plenty of attention from casual fans as well as collectors since his appearance on the cover of Sports Illustrated, but there hasn't been any MLB memorabilia of him until that jersey hit the block. His first baseball cards showing him in a Nationals uniform will appear in 2011 Bowman baseball card sets, with Topps hoping that Harper will help draw fans in much like Stephen Strasburg's presence did in this year's set.
The comparison between the two No. 1 draft picks are valid, as each player's SuperFractor cards (limited to one copy) from 2010 Bowman fetched serious money. Strasburg's card sold twice for more than $16,000 and $20,000, while Harper's card -- one that shows him as part of a USA Baseball squad -- recently sold for $12,500.
And the jersey? When the bidding's all said and done on Sunday, it just might be in that kind of territory, too.