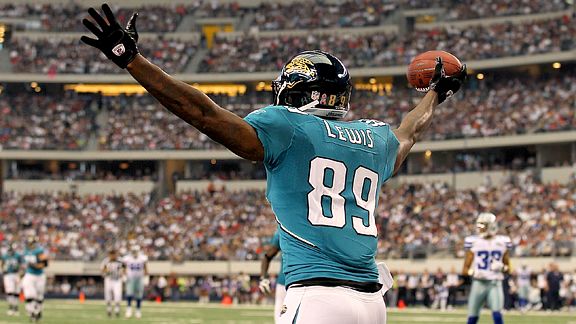 Stephen Dunn/Getty ImagesMarcedes Lewis -- hey, close enough to Mercedes -- makes our All-Bling Team.
We've got the goods, and we're gonna flaunt 'em. Now, front and center, we present Page 2's All-Bling Team:
Cap Anson: As one of the first baseball players of any skill level, Adrian Constantine Anson probably didn't have gold-plated, exclusively cosmetic caps on his front teeth to show off his social stature. Back in 1871, when he played for the Rockford Forest Citys of the National Association, the American public didn't know whether to be impressed or confused by someone who made his living playing Base Ball.
Jake Bentley: The Central Michigan linebacker needs to get on the field more often if he is to afford one of his namesake's vehicles, which are sold at only 40 dealerships in the States. We assume that as a blitzing LB, he'd prefer the Bentley Continental Flying Spur, which can be his -- or yours -- for $177,600. Offhand, we can't think of too many MAC linebackers who can afford something with a price tag nearing $180K. SEC quarterbacks? Maybe a different story.
Scott Diamond: The pitcher in the Braves system has the chance to be the next diamond in the rough. He's from Guelph, Ontario, which is far more known for sending its native sons to the NHL (19) than to MLB (five). He has put up a 3.28 ERA in two pro seasons and is expected to get to spring training with the big club.