You know the saying that it takes money to make money, right?
Well, that certainly applies when it comes to sports cards and memorabilia, but the newest football card set from Arlington, Texas-based Panini America might offer up a new saying: "It takes history to make history."
Panini is doing just that with its 2010 Certified Football set, which arrives this week packing a very special card, a first in an industry that has already created plenty of fascinating firsts in the past decade.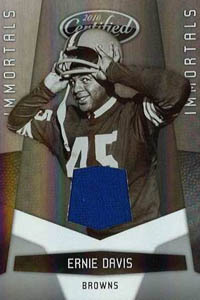 courtesy of PaniniErnie Davis' life was chronicled in the movie "The Express."
This history-maker? Collectors can now find the first memorabilia card of college football legend and social pioneer Ernie Davis.
Davis, who was the first black player to win the Heisman Trophy as well as the first black player to be selected with the No. 1 overall pick in the NFL Draft, has a somber story, one that was most recently told in "The Express," a 2008 movie that starred Rob Brown as "The Elmira Express" and Dennis Quaid as Syracuse football coach Ben Schwartzwalder.
For younger fans who might not know Davis' story, he never played a single down in the NFL -- not even a preseason game -- as a member of the Cleveland Browns as he was diagnosed with leukemia while in preparation for the 1962 College All-Star Game.
Not long year after being taken No. 1 in the 1962 draft, Davis died in May 1963. He was 23.
Earlier this year, Davis' jersey from that College All-Star Game was sold at auction for $23,900, and Panini was the winner. The jersey already has been disassembled and small swatches of fabric from what is likely Davis' last jersey have been placed into a limited number of football cards which will be found by collectors opening packs of Certified.
"[The card] is a legitimate history-maker that advances the memorabilia-card genre," said Panini America Hobby Marketing Manager Tracy Hackler. "Panini America prides itself on identifying and procuring those pieces of authentic memorabilia that are truly meaningful and historically significant."