Hollywood is never in need of a reason to party. Still it got one this week when GQ came to town and threw a ritzy shindig for its 15th annual Men of the Year issue at the famed Chateau Marmont on Wednesday.
The annual issue celebrates the year's best from Hollywood to fashion to the sports world.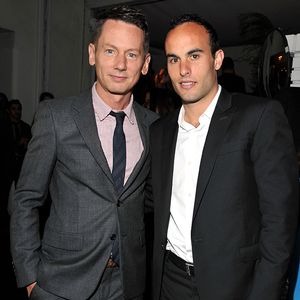 Lester Cohen/Getty ImagesLandon Donovan, with GQ editor Jim Nelson, was named the magazine's "Baller of the Year."
Drew Brees and Landon Donovan were selected by the magazine's editors as two of GQ's men of the year.
"Brees for me was a no-brainer," GQ editor-in-chief Jim Nelson said. "His story was about everything that New Orleans had gone through and it just gave you goose bumps to see him triumph."
Donovan's star turn in the 2010 World Cup, particularly his goal against Algeria, landed him a place on the coveted list. "Landon is just class," Nelson said. "He's the guy who made America pay attention to soccer."
"It's great to get recognized for what you do," Donovan said. "I've always loved GQ, so it's cool to make this issue."
The party's tightly guarded guest list brought in a who's who of A-listers, headline makers and, of course, dozens of paparazzi, which security barricaded on a sidewalk across the street from the hotel's entrance.
In the main foyer of the Chateau, Nelson, dressed in a smart, gray Prada suit with a dark blue skinny tie, greeted the likes of James Franco, Taylor Lautner, Drake and Anna Faris, while chatting about the current state of athlete style.