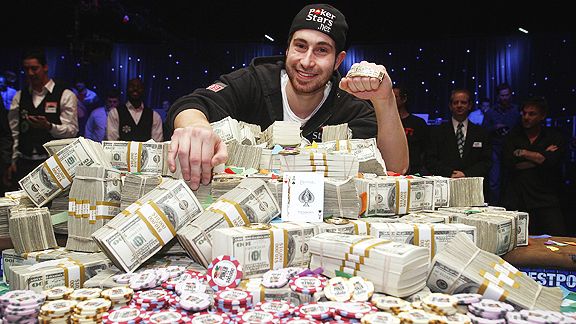 AP Photo/Isaac BrekkenJonathan Duhamel, 23, won $8.94 million at this year's World Series of Poker.
Jonathan Duhamel, a 23-year-old who put his finance degree on hold for a shot at the poker big leagues, isn't your average poker star, even by recent standards.
On Nov. 8, Duhamel became the first Canadian to win The Main Event at the World Series of Poker in Las Vegas. It was just Duhamel's second entry into the tournament, where he claimed the $8.94 million prize.
He follows a recent trend of younger champions, with the last three winners all being 23 or younger.
"The online factor has a lot to do with it. When I play on [Poker] Stars, I play like 8 to 10 tables at a time. When you do that you see a lot of hands, so you get a lot of experience," the Quebec native said. "Even if you are young, you have a lot of experience, you have seen a lot already. Even though you're young you're kind of an old-timer already."
But most old-timers don't profess their respect for MMA star George St-Pierre, like Duhamel does. They also probably don't warm up like he did.
"Before the final table, I listened to the same song for like three hours," Duhamel said of the Dropkick Murphys' "I'm Shipping Up to Boston," which he said gets him prepared for battle.
"I'm just so focused, so ready," he said. "I'm going to war right now."
Duhamel, who visited ESPN this week, said he's memorized "Rounders," watching the movie at least 150 times. "I use it as motivation to do the best you can," he said.
He's a huge Montreal Canadiens fan, and one of his first acts after claiming the prize money was to donate $100,000 to the team's children's foundation, the largest gift it's ever received. He also immediately decided to buy Canadiens season tickets, although he won't be getting them just yet.
"Not yet," he said. "There's a very big waiting list for them."
Duhamel is enormously proud to be the first Canadian to win the WSOP. But he doesn't make much of an international rivalry in the sport.
"For me, no matter where you're from, when I'm at the poker table I want to have your chips anyway," Duhamel said. "You can be my brother, and I want your chips."