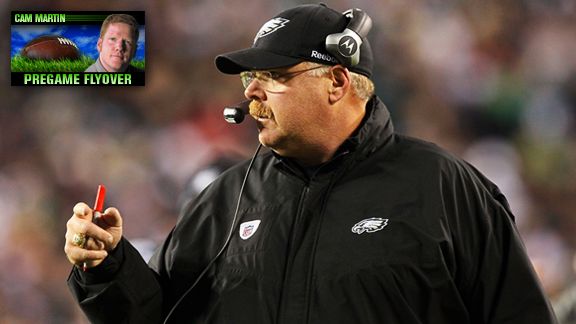 Getty ImagesAndy Reid's outstanding coaching made the Eagles a contender again. Right?
Welcome to the Week 12 Pregame Flyover. Before we get to this week's games -- and tell you which games are probably worth watching, which games are of questionable worth, which games are of doubtful worth and which game involves the Panthers and the Browns -- let's address . . .
Football and Black Friday
In order to enjoy a successful Black Friday shopping experience, you need to keep in mind that participating in this yearly event (which should be a national holiday) is not very different from playing football. As Bill Parcells liked to say, "You are what your record says you are." So if you're 0-6, you are not a winner. Likewise, if you return from the Black Friday sales without procuring that one big targeted item, then you are failure. It's that simple. Do not make excuses. Don't say, "Oh, they sold the last 50-inch Panasonic Viera to the guy directly in front of me." Well, why weren't you that guy? Why didn't you guarantee your purchase by getting in line on Election Day? You chose sleep and comfort over winning on Black Friday. You obviously didn't want it enough.
NFL Coach of the Year candidates
We don't envy the voters who have to fill out ballots for NFL Coach of the Year. How do they figure out who did the best coaching? Is it the guy whose team made the biggest gain in the victory department? What if two teams both went from 3-13 to 10-6? How do you choose between them? Moreover, do you hold it against a coach if some of his players were suspended for using performance-enhancing drugs? Or do you actually credit the coach in that instance, since he's obviously filled his team with go-getters? Very dicey. There are a lot of good candidates for NFL Coach of the Year in 2010, thanks largely to the glut of teams that retain playoff aspirations. Let's look at some candidates and their cases for winning.
Pete Carroll
The first-year coach has the Seahawks perched atop the NFC West. The team has not yet proven it can win consistently on the road, but Carroll's squad plays hard for him and they have kept their noses relatively clean under his stewardship. Golden Tate, who was warned for trespassing during a preseason incident at a donut shop, has since stayed out of trouble. That's not surprising because Carroll, who coached previously at USC, obviously has never allowed any shenanigans on his watch.