Come February, Fox analyst and former Super Bowl winning coach Jimmy Johnson will step into Cowboys Stadium and coach again.
Nope, he's not taking over the Dallas Cowboys again. Actually, he's partnered with Crown Royal to do a promotion, where the winner and four friends get to play a full game of flag football at the stadium just days after the Super Bowl. Johnson will coach both teams.
Page 2 chats with the coach about the Cowboys, his thoughts on the Super Bowl and what it was like on "Survivor:"
The Cowboys are 2-0 with interim coach Jason Garrett. Do you think he's the answer for the team?
"I'm really pulling for him. He played for me, his dad was a scout for me and his brothers coached for me and I have a great relationship with him. In fact, Jason and Troy Aikman came down to my office a couple years ago and Jason had an agenda of asking all the right questions about how to prepare to be a head coach in the NFL. He's a very intelligent individual. I'm hoping he can win 'em over."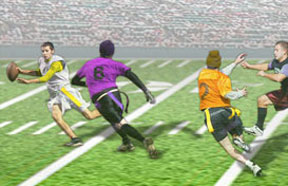 Courtesy of Crown Royal Fans have a chance to win the opportunity to play flag football at Cowboys Stadium.
Speaking of coaching, you're doing something really cool -- fans get to play flag football in the Cowboys' stadium and have you coach them. What made you want to do this?
"I've been involved in Crown Royal for about 10 years, and they just do such a great job and we've had three or four different promotions. If they go to CrownRoyal.com, they can see inspirational videos that I put together for them to enter the contest. If they submit a short essay or a short video and if they can convince us that they should win the contest, it'll be an all-expense paid trip to Dallas for them and four friends and I'll coach them to play a football game in Cowboys Stadium.
Naturally, I have to ask, since this promotion happens right after the Super Bowl, which two teams would you like to see play there?
"I don't know. Of course, I don't have any real favorite. My buddy Norv Turner is coaching down in San Diego. He had a big win the other night, but they've got a long way to go because they've got five losses. But you look in the NFC, I think Green Bay Packers, Atlanta, New York, Philadelphia -- they're all contenders. In the AFC, the New England Patriots and Pittsburgh Steelers, I think the Jets, even Indianapolis could be there. I think it's a wide-open race in both conferences."
You've probably got the best head of hair in the NFL. What was that like for you when you were on "Survivor?"
"Well, the last thing I was worried about was my hair when I was on "Survivor!" The one thing I worried about was trying to get some sleep, trying to get some food. We were eating less than 200 calories a day; I lost close to 20 pounds in just a week and a half. I wasn't worried about my hair. I was worried about getting some food!"