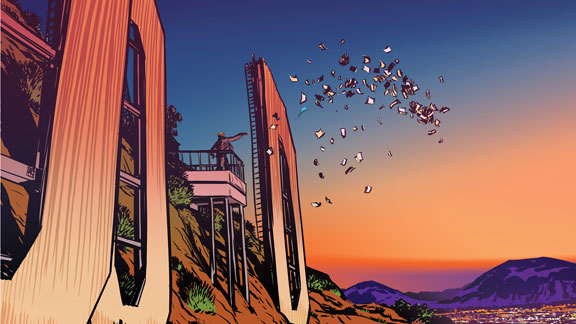 Illustration by Nathan FoxBreaker Boys is not the first project that Hollywood has chewed up and spit out.
Dear Pottsville: You were counting on me, I know.
During the past five years I must have heard that phrase a thousand times while visiting your rugged, lovely little town in the mountains of eastern Pennsylvania. You normally don't embrace outsiders. But in 2004, when I showed up and said I wanted to write a magazine story about your beloved 1925 Maroons, one of the most dominant, influential -- and controversial -- teams in NFL history, you treated me like family and gave me the kind of support most writers only dream about. And when I returned with the idea of writing a book, you were quite clear about what you expected in return: You were counting on me (there's that phrase again) to chaperone this local treasure to Hollywood and make it into the kind of blockbuster movie that would embarrass the NFL into making amends and returning the stolen 1925 NFL championship to its rightful owners.
Well, I've now spent the past four years immersed in la-la land desperately trying to honor our deal. And even though I now feel like I may never be fully clean again, I'm not here to complain, apologize or point fingers. All I really want to do is to explain what happened to our Maroons movie and, if need be, beg you, the good people of Pottsville, for one last favor: Please don't make me go back to Hollywood.
---
LOOKING BACK, it seems fitting that my first few days in the movie biz were spent on the toilet. In the fall of 2006 I had agreed to travel to Hollywood to meet with movie producers who had optioned my book proposal on the Maroons. On the trip out west, however, I caught a wicked stomach virus and wound up sequestered in the Beverly Garland Holiday Inn in North Hollywood. Forty-eight hours later, my hotel room was littered with crinkled-up script pages, Post-it notes, dirty socks, Pop-Tarts wrappers, wine bottles and Pepto-Bismol empties. It was like a PG-13 version of a Hunter S. Thompson tale, and as I glanced around my trashed Hollywood headquarters, I said to myself: You're sure not in Pottsville anymore, dude.