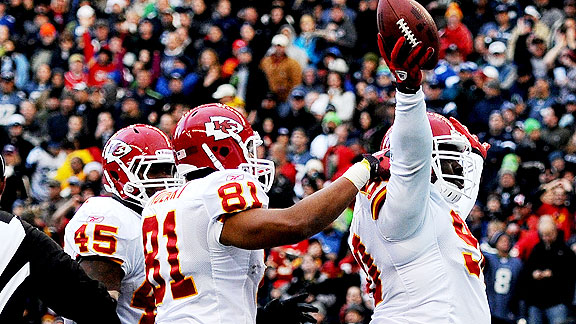 Icon SMIChiefs defensive lineman Shaun Smith lined up at running back and scored a touchdown on Sunday.
Here's a quick look at 5 stats from Sunday's NFL action:
• This weekend Michael Vick threw his first interception since Dec. 24, 2006. During that same time span, Brett Favre has thrown 66 interceptions (including playoffs).
• On Sunday, Kansas City defensive tackle Shaun Smith scored his first touchdown since high school. The 325-pound lineman now has more rushing TDs this year than Dallas speedster Felix Jones.
• Peyton Hillis became the fourth Cleveland running back to score at least 10 total touchdowns in 10 games. The other three are all Hall of Famers (Jim Brown, Bobby Mitchell and Leroy Kelly).
• Matt Forte is exactly 400 total yards away from tying Walter Payton for the most yards from scrimmage in Chicago Bears history through their first 3 seasons.
• Since taking over as a full-time starter during his junior year of college, Falcons quarterback Matt Ryan is now a combined 31-2 in home games.