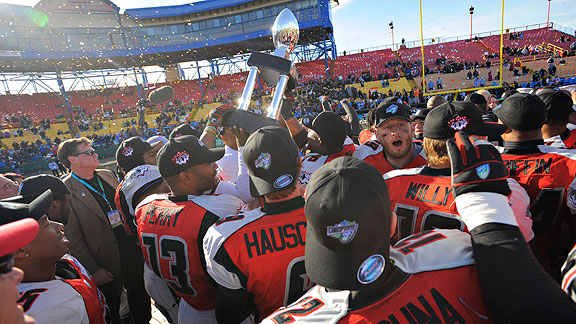 AP Photo/Scott A. MillerThe Las Vegas Locomotives are proud to call themselves back-to-back champions.
The 2010 UFL season ended on Saturday. Perhaps you were watching college football or shopping or eating or spending time with your family and missed the championship game. And perhaps you were doing one or all of those things every other week of the UFL season and missed the entire season.
If so, here's what you need to know.
Your 2010 UFL champion is the Las Vegas Locomotives. The Locomotives beat the Florida Tuskers at Johnny Rosenblatt Stadium in Omaha, Neb., 23-20, to secure the second championship in UFL history.
"I think anybody who snuck into this game probably paid on the way out," said victorious Locomotives coach Jim Fassel after the game. Ignoring the fact that the UFL apparently has a very serious security problem, Fassel may be right. Florida and Las Vegas alternated scores throughout the game and the final play was a block of Nick Novak's game-winning field goal attempt. Also, George Clinton and the Parliament-Funkadelic played the halftime show, so people were probably grateful they didn't have to hear the Black Eyed Peas.
Las Vegas has won the first two UFL championships. The Locomotives are basically the Packers of the UFL. Green Bay won the first two Super Bowls, Las Vegas won the first two UFL titles. And so ends the similarities between the cities of Green Bay and Las Vegas.