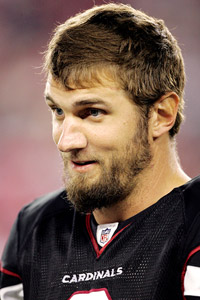 AP Photo/Paul JasienskiDerek Anderson somehow went to his happy place on Monday night.
Cardinals QB Derek Anderson didn't take too kindly to being asked why he was seen laughing on the sidelines during Arizona's 24-6 loss to the 49ers on Monday night.
Here's the problem -- he was laughing. So what was so funny, Derek? We never did get an answer, so we had to come up with our own:
• "Things would be easier if we could just join the Big East."
• "At the very least I should be able to get on 'Dancing With The Stars.'"
• "Jeter is nuts if he thinks he's getting $24 million a year."
• "I should have taken these kinds of talents to South Beach."
• "I can't believe people actually paid to watch this #@$%."
What do you think he was laughing about? Post your suggestions in the comments section and maybe your take will show up on Tuesday's edition of "The Beat" on ESPNEWS at 6 pm EST.