Many of you might know him as Lt. Frank Drebin, a former major league baseball umpire or, of course, opera star Enrico Pallazzo.
But many of you might not know that Leslie Nielsen, who died Sunday at age 84, actually can be found in packs of baseball cards.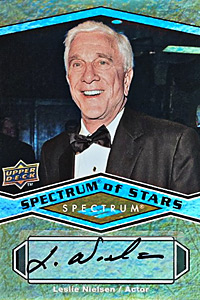 Upper Deck Interest in Leslie Nielsen's Upper Deck card has soared.
Upper Deck landed the former "Naked Gun" star for an appearance in its 2009 Spectrum Baseball set, which included a set of autographed celebrity cards.
Nielsen can be found in the 22-card Spectrum of Stars Autographs set alongside Burt Reynolds, Corey Feldman, Kim Kardashian, Kendra Wilkinson, Linda Hamilton and even Cheech Marin and Tommy Chong. But none of those stars thwarted Hall of Famer Reggie Jackson's attempt to attack the Queen of England, surely making Nielsen's card perhaps more endearing to a baseball fan, right?
Nielsen signed two different cards -- a standard version of his Spectrum of Stars card and a rarer version limited to 50 copies. Before his death, the standard card typically sold for somewhere between $15 and $40, while the rarer card typically fetched as much as $50.
In addition to those two cards, Nielsen also appears on four printing plate cards, the sheets of metal used to print the cards which were cut down to card size and randomly placed into packs.
Since the news of the star's death, the standard card has fetched as much as $65 in online auctions.