The drama of where Derek Jeter will go -- and how much he will get paid -- will unfold sometime before next season (we hope), but an old Topps baseball card will have everyone one-upped if he somehow ends up in Boston.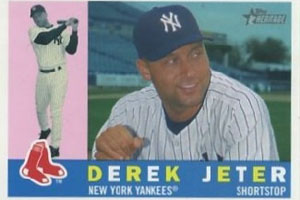 Courtesy of ToppsA rare version of Derek Jeter's 2009 Topps Heritage baseball card shows him with the Boston Red Sox.
How? Jeter already has been listed as a member of the Red Sox on a relatively rare variation of his card in the company's 2009 Topps Heritage baseball set -- a totally intentional error card to make collectors remember baseball cards of the past in yet another way, back when mistakes weren't really masked marketing ploys and when free agency, well, it didn't exist.
It's no Photoshopped concoction (unlike these).
Modeled after the 1960 Topps set, Heritage was capped with a high-number series late that year where six cards were intentionally changed to spark some added interest -- and sell some cards as collectors chased the rarer versions.
That meant that Jeter, in his home pinstripes, had a card with Red Sox logo. And, in turn, Dustin Pedroia had a card with a Yankees logo.
Other variations in that set played with printing mistakes -- players with photos that were black and white instead of color and alternate designs.
The Jeter Red Sox card still sells for as much as $200.