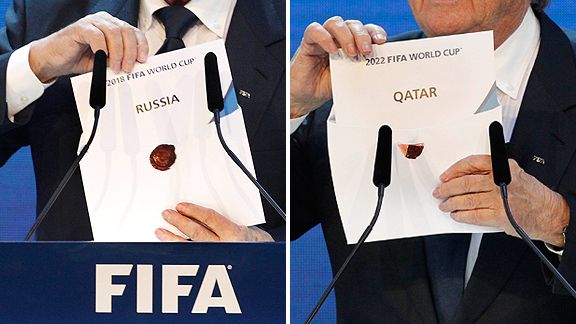 AP Photo/Anja NiedringhausRussia will host the 2018 World Cup, and Qatar gets the 2022 event. How will U.S. sports fans survive?
How will American sports fans possibly survive on a diet of NFL, NBA, MLB, NHL, college sports, high school sports, NASCAR, boxing, MMA, action sports, tennis, golf, UFL, arena league, televised poker, semi-pro leagues, WWE, WW-whatever Ric Flair and Hogan are doing these days, bass fishing, the spawn and spirit of Barbaro, competitive eating, competitive cheerleading, competitive spelling bee, surfing, Gumball rallies, Wii Sports, bow-hunting, Golden Tee, putt-putt, "Halo"-playing, track and field, swimming, handball starring Jake Plummer, legal dog racing, legal dog shows, illegal dog fighting, illegal street racing, lingerie football, Puppy Bowl, cup-stacking, texting, real-life Quiddich, ping-pong, beer pong, billiards, "Madden Nation," barbecue brawls, backyard wrestling, "Street Fighter IV," YouTube street fighting, diving into mud to hand-fight giant catfish (thanks, E:60!) and MLS alone?
You maniacs! You blew up 2022! Damn you, FIFA!