Welcome back to another edition of Page 2 Jeopardy!, the quiz that tests your knowledge of sports, pop culture and assorted trivia. Please remember to phrase your responses in the form of a question.
(Correct questions at the end of the quiz.)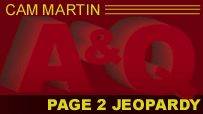 1. Answer: When asked if he planned to watch LeBron James' return to Cleveland, this NBA coach said, "That's not of interest to me. I hate to listen to the Cleveland broadcast. Their announcers are so loud on the court. It's just an obnoxious place."
2. Answer: If this NBA team doesn't average at least 14,213 fans over its next 13 home games, a clause in its lease agreement would be triggered that would allow the team to relocate to another city.
3. Answer: A fan of this disappointing AFC team was recently kicked out of the home stadium for reportedly waving a T-shirt that called for the firing of the team's offensive coordinator.
4. Answer: This "Independence Day" actor told Vanity Fair that he and his wife fled to Canada because a shadowy cabal called "The Hollywood Star Whackers" is out to get them.
5. Answer: During an appearance on Conan O'Brien, this former NBA star commented on President Barack Obama's one-on-one basketball skills, saying "I'm an old fat guy now, but I'd kick his a--."
Question 1: Who is Phil Jackson?
Question 2: Who are the New Orleans Hornets?
Question 3: Who are the Cincinnati Bengals? (The offensive coordinator is Bob Bradkowski.)
Question 4: Who is Randy Quaid?
Question 5: Who is Charles Barkley?