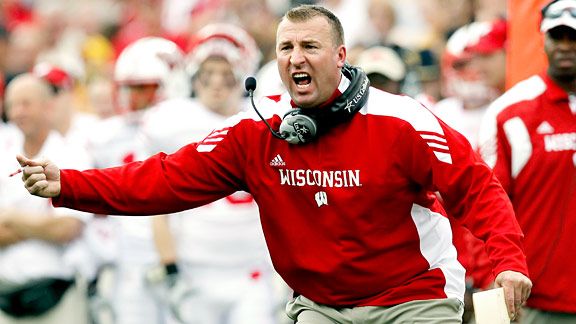 AP Photo/Charlie NeibergallBret Bielema and the Badgers are likely headed for a rosy New Year's Day in sunny Pasadena, Calif.
Wisconsin football coach Bret Bielema is under the microscope.
Currently sitting at No. 5 in the BCS standings, his Badgers have scored 201 points in their past three games. Critics accuse Bielema of poor sportsmanship. They say he's pulverizing opponents long after the outcome of games has been determined. Never mind that the BCS process inherently places a premium on "style points."
So naturally, when Bielema visited ESPN headquarters on Thursday, Page 2 wanted to ask him about his Iowa Hawkeyes tattoo, Bruce Springsteen and Bucky Badger. Here's what transpired.
Page 2: A lot has been written about the fact that you played and coached at Iowa and even have a big Hawkeye tattoo on your left calf. Will it always be a little bit weird to lead the visiting team into Kinnick Stadium?
Bielema: It is, but it kind of diminishes every trip I go there. When I first went there, I'd recruited players that were playing [for Iowa]. So, it was kind of a unique perspective to recruit a kid and now be playing against him. ... It kind of gets less [weird] with time, but it's always going to hold a special place because I have so many great memories there as a player and coach.
Let's suppose Wisconsin matches up with Stanford in the Rose Bowl. That would be a terrific matchup. But do you worry about what might happen when the Wisconsin band and the Stanford band -- two groups with a history of off-the-field issues -- lock horns?
Yes, our band has quite a history. There was a point in time in Wisconsin football when people used to just go to watch the band. Hopefully, we're past that day now, but I think a Stanford matchup would be one that would be a lot of fun for a lot of people.