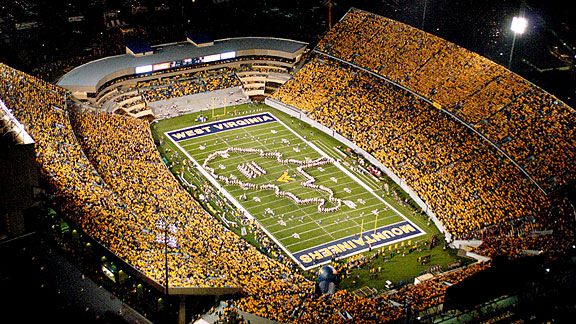 Brian PersingerThe Pride of West Virginia band performs its signature move -- forming the state outline.
Photo gallery:
West Virginia football Pilgrimage

|
Passport
|
Buy West Virginia tickets
MORGANTOWN, W.Va. -- The Mountaineer might just be the busiest mascot in show business.
I first caught sight of the well-armed, bearded man in buckskin as he entertained the crowd during the first half of a women's soccer NCAA tournament game at Dick Dlesk Stadium. By the time I had worked my way over to the sideline where I had last seen him, he was gone, so I pursued him across the track oval and up the hill to WVU Coliseum, just in time for tipoff of the first women's basketball game of the season.
After firing his musket (not a euphemism) to mark the official start of the hoops game, the shaggy mountain man eluded me a few more times in his quest to meet and greet everyone in the building. Eventually, he held still long enough for me to flag him down for a few minutes. For what it's worth, he needs this kind of energy.
"It's pretty crazy! There was volleyball before soccer, then women's basketball, men's basketball and football on Saturday," said Brock Burwell, 24, of Harrisville, W.Va. "I pretty much closed off these two days for WVU athletics. I've done nothing else this weekend. Which is fun!"
Burwell is the current incarnation of the Mountaineer, though it could be argued the position was a birthright of sorts. As a toddler, he tagged along when his uncle served in the coveted role of WVU mascot. Although other universities might have several costumes populated by several unknown students, there is only one Mountaineer in Morgantown. Burwell tried out more than once as an undergraduate, persisting until he eventually was selected in his senior year. He certainly looks the part: burly, affable and bearded.
Of course, the beard isn't required. Burwell's predecessor in the job was Rebecca Durst from Point Pleasant, W.Va. The Mountaineer can be male or female, hirsute or clean-shaven. Each wearer of the buckskin must be able to ready and fire a muzzle-loading rifle, represent the great state of West Virginia in an upstanding manner and have a personality big enough to rile up a stadium full of people.
That last part is key.
And the Mountaineer's biggest audience is found at West Virginia football games.